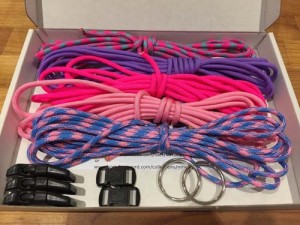 Paracord bracelets are not only practical, they can be very fashionable.  There are thousands of colour combos you can try and then thousands more if you make them in a different weave.  Quite simply your colour combo can make you totally unique.
Not only do we custom make the paracord survival bands to your wrist size in the colours you want, we now also sell the kits.
Our kits represent real value for money and with the fun of making your own you can make some really funky wristbands.
Visit our shop and select from kits we have already put together, or select your own colours.
These kits make great presents for everyone.