Paracord Friendship Bracelet Kits
Showing all 4 results
Great value for money. Make your own paracord bracelets and save.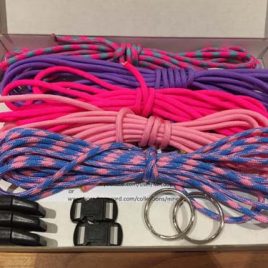 Friendship Colours Paracord Bracelet Making Kit
We often get asked if there are kits so you can make your own paracord bracelets.  Well the answer is now Yes you can! These paracord kits represent real value for money and will save you quite a lot compared to buying them individually. We have put together some great colours which we think you'll like.However, you don't have to take these, you can always pick your own colours.  We also have a superhero kit, where we have a prejoined two colours together in popular character colours, e.g. black/yellow - Batman, Red/Yellow - Ironman. Please be aware these kits are made with 100% US 550 Paracord which is either military or commercial spec.  It is far superior to the cheap Chinese stuff which inhabits eBay and many sites.  Our kits are not toys, although kids love them.  We don't mess around with the glossy packaging, we prefer to put that cost into the product so you're happy.  Supplied in a simple storage box which is biodegradable once finished with we use minimal packaging to help the environment.
not rated
£

12.50
Add to basket